Beautiful Beagle Boys Seek Part Time Home – Supplies Included – Tampa, Florida – Foster Harper and Today!
Meet Harper and Leopold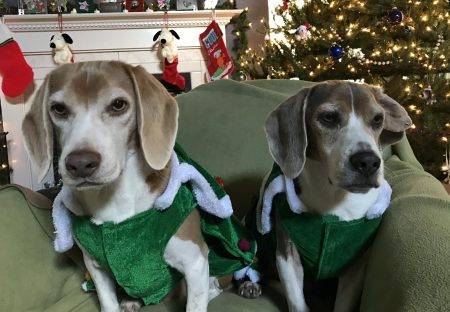 Are you a dog lover or dog loving family with room in your heart and home for a pair of very sweet Beagle brothers on an ongoing part-time basis?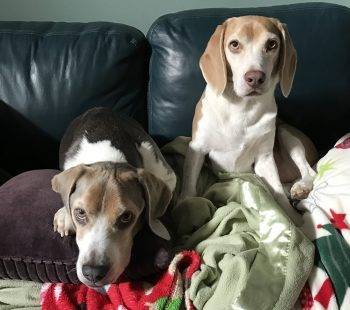 Harper and his brother, Leopold are the pride and joy of their owner, a young career woman with a very busy work schedule requiring frequent travel. She loves her boys so much, but her job keeps her away from them so much of the time, and they are spending a great deal of time with pet sitters.
This is a very difficult situation for the dogs and their owner. The costs of hiring pet sitters are frightening, and the dogs have no sense of normalcy. Their owner worries about their wellbeing when she can't be with them, and the dogs are not getting the love, attention and exercise they need and very much deserve when left alone, with periodic visits from the pet sitter.
Rather than placing them permanently in a new home, the owner is dearly hoping to find someone wonderful who will foster the dogs part time – on an ongoing, indefinite basis.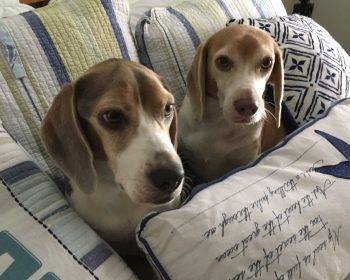 She will pay for their food, supplies and vet care, and provide the foster home with a monthly gratuity of $150.
Both dogs are very well behaved, house broken, cuddly and sweet. They are wonderful companions, and would be an ideal addition to the home of retired dog lovers. They give as much love as they get, and make life better by their mere presence.
The foster home will need to have a securely fenced back yard, and plenty of time to spend with these charming canines. If you would like to offer Harper and Leopold their "second home", please call Debbie at (813) 296-5322 or fill out our Offer To Foster form below.
$150 Monthly Gratuity Paid to Foster Home – All Supplies and Vet Care Included
---
All About Harper and Leopold
Name of Pet: Harper
Location: Tampa, FL, 33635
Type of Pet: Dog
Breed of Pet: Beagles
Sex of Pet: Male
Age of Pet: 5
Spayed/Neutered?: Yes
Health Problems: No
Up To Date on Vaccinations: Yes
Gets along with cats: No
Gets along with dogs: Yes
Good with Children?: Yes
House Broken or Litter Trained?: Yes
Crate Trained?: Yes
Accessories Included: I have crates, food, bowls, collars leashes..everything the dogs need.
Harper's Personality
He always wants to be with me and is content to just hang out on the couch. He is very intelligent. He is very sweet and gentle and very humble. He literally bows his head when you speak to him. He is very well house trained. He will let you know if you have forgotten to let him out. He's also easy to bathe yourself, so grooming is easy. He loves to snuggle in blankets.
Harper's Current Home Environment
I am on the go a lot. When I am home, my dogs are either in the room with me or sitting with me. If I am working in my office they will sleep on the couch or on their cots. If someone comes over the dogs will not rest until they make them into a new friend. I have a fenced in back yard and that is where I let the dogs run and use the bathroom. I keep their waste picked up. Since I have two dogs, I usually don't do a lot of leash walking. They get their exercise in the yard.
Current Family:
I live alone. My dogs are my companions when home. I am on the go a lot so they are alone too much.
Favorite Toys, Foods, Activities?
I feed my dogs nothing but dog food and treats. I use Natural Balance food and treats to prevent any skin problems. They have nylabone toys only. They cannot have any kind of soft toy or one that is edible or destructible as they will tear it apart quickly and become sick on it. They like running around the yard and just simply being with me wherever I am in the house. Harper loves to play with his toys and will hoard them he loves them so much. He acts like a child at Christmas when you give him a new nylabone toy..it's very cute.
Cute Story:
Harper bows his head when you speak to him kindly..he's very humble and sweet. He jumps up and down and gets excited at feeding time. I call him Kanga-dog.
Reason Foster Home Needed?
I travel frequently for my work and I'm leaving them alone all day with periodic visits from a pet sitter. It is very expensive and the dogs are just alone too much.
Perfect Foster Home Will Be:
In my conversation on the phone, we spoke about the possibility of a foster family to share in caring for my dogs so that I could still have them when I'm home. I would still provide their food and vet care as I have been and offer a gratuity to the family that would have them when I am traveling for work or vacation.
Additional Comments:
If it's possible to explore this fostering option for both dogs that would be great. If it's only possible to do it with two separate families, then I would be open to that also.
[gravityform id="17″ title="true" description="true"]