Unique Dog Products Showcase – The Bow Wow Boutique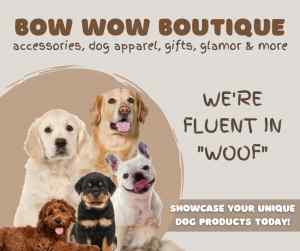 Bow Wow Boutique: Unique Dog Products for Your Furry Pal!
Unleash the fun with our Bow Wow Boutique, your one-stop-shop for unique dog products that promise to make your pooch the talk of the town. Sniff out the latest in canine chic today!
Welcome to the Bow Wow Boutique – Where Ordinary Dog Products Yawn and Beg for Mercy!
Ladies, gentlemen, and distinguished dogs of all sizes, get your paws ready for a shopping spree like no other! Introducing the Bow Wow Boutique, the quirk-filled corner of Dogs and Puppies Central where 'ordinary' is a foreign word and 'fabulous' is the lingua franca.
Are you tired of the same old doggy dish, the humdrum harness, the boring bandana, and the snooze-fest sweater? Fear not, for we have scoured the furthest reaches of the pet-iverse to bring you a treasure trove of tail-wagging wonders that are anything but vanilla.
From unique products that make your dog's like just plain better, to the chicest in Chic couture for canines, we showcase the best of the best. We scour the Internet in search of true innovation for your dog – not some crap from China, or an endless wall of copycat copies of copied items like you find on Etsy. We're talking true finds for Fido.
Here's a sneak peek of what's in store:
Canine Couture That'll Turn Heads at the Dog Park
Forget Paris, New York, Milan, and Beverly Hills, the most "well put out" dogs can soon be found in your  back yard. Step aside, Paris Fashion Week – our dog apparel has more flair than a peacock in a sequin suit. From denim jackets with punk-rock patches to Halloween costumes that would spook a ghost, your furry friend will be the center of attention.
Toys That Make 'Fetch' Look Like a Snore Fest –  Imagine a squeaky toy that sounds like an alien opera or a chew toy that doubles as an interactive puzzle. Our toys are not only fun, but also designed to spark those canine grey cells. Keep Benji fit in body and sharp in mind!
Beds for Regal Pooches and Sassy Pups Alike – Think of a bed that's so plush, your dog might just check if they've been upgraded to royalty. Or perhaps a customizable doggie sofa that makes your own couch look second-rate. Sweet dreams are made of these!
Gourmet Grub That'll Have Them Licking the Bowl Clean –  Our selection of gourmet treats includes organic, gluten-free, and even vegetarian options that will tantalize your dog's taste buds. Because who said fine dining is just for humans?
So why should you let your canine companion miss out on the fun? The Bow Wow Boutique isn't just a treasure chest of unique dog products; it's a statement, a lifestyle, an exclamation bark of individuality for your four-legged bestie.
And let's face it – when your pooch parades around with a toy that's cooler than your smartphone, you'll be living vicariously through the coolest dog on the block.
So sniff around, dig up some goodies, and let your dog set trends that even the neighbor's cat will envy (secretly, of course). It's time for a shopping romp at the Bow Wow Boutique – where every tail wag tells a tale of doggy delight!
---
Want us to Showcase Your Unique Dog Product on the Bow Wow Boutique?
Click here to fill out our listing request form. So long as your product meets our high standards for uniqueness,  high quality,  durability,  and likeability, you can have a showcase spot here on the Bow Wow Boutique. we'll respond asap with pricing and listing options. Like you, we're not average. We're a dog products SHOWCASE. We look forward to hearing from you soon!